Back home from a charming and most interesting journey through Thailand, full of a multitude of impressions and unforgettable experiences. On our tour, which led us 2700 km through the country - from Bangkok up to the Golden Triangle and back to the south-eastern coast, to Pattaya- we learned a lot about the country, its rich cultural heritage and its likeable people. We dipped into a different world, where Buddhism has had a formative influence on people's life and culture throughout history.
Did not know, that in the kingdom of Thailand, which bore the name Siam until 1939, 95% of all people are Buddhists and from around 40,900 temples in the country, 33,900 are still active! We were deeply impressed by the religiosity of the people, particularly also of the young people, who worship and perform religious rituals at the numerous sacred sites, not only at temples, but also at open air altars. Buddha is omnipresent, just as elephants - alive or as sculptures.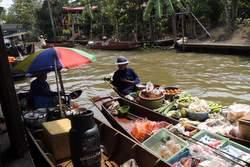 As there is no "church tax" in this country, the extremely costly preservation and maintenance of the numerous temples exclusively finances through donations. Also the monks live on donations of the faithful, who thank the monks for accepting their gifts.
Temples are the most meaningful sights in Thailand. Many of them are architectonical masterpieces, elaborately decorated and of breathtaking beauty, some UNESCO World Heritage sites.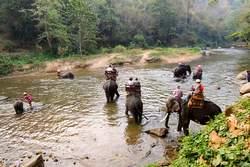 We saw some of the most important and most beautiful temple complexes from different periods. Other highlights were the Grand Palace at Bangkok, the Golden Triangle, the Floating Markets, the Night Markets, a folklore show and much more. An unforgettable and very special experience was the visit of the Maetaman Elephant Camp, a 45 min. drive away from Chiang Mai city. Located in a lush, green valley at the Maetang River it offers optimal living conditions for the pachyderms. We could watch them bathing before they showed their skills in a show, such as playing football, pulling and piling up logs and so on. But the most exciting thing was, to watch as two of them created amazing paintings at an easel, holding the brushes with their trunks - simply incredible! Of course an elephant ride through the jungle was offered,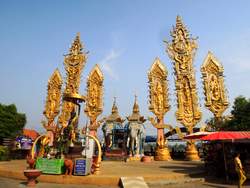 just as sailing on a float, which we however haven't done, as we knew it from India!

Loved the Asian food and the exotic scenery with palm groves, banana plantations, rice fields, blooming hedges, orchids and the traditional houses on piles with their steep roof pitches, usually built with natural materials, like wood, bamboo and dried leaves.
30 - 35° C every day were a certain challenge, especially during the round trip. However, at the end we found great relaxation at the charming Pathaya Garden Resort.


Custom Search
Fatal error
: Cannot redeclare fuss() (previously declared in /www/htdocs/v122395/footer-resp.php:8) in
/www/htdocs/v122395/footer-resp-of.php
on line
22