The St. Mark's Square (Piazza San Marco), which was called "the drawing room of the world" by Musset, has been the centre of the religious and social life in the Venetian republic for almost one millennium. Here you will find the St. Mark's Basilica (Basilica San Marco), the Doge's Palace (Palazzo Ducale) and the Bell tower (Campanile), the most famous sights of Venice. The architectural design of St. Mark's Square to a great extent was determined by the St. Mark's Basilica, which adjoins the Doge's Palace at the west side of the place.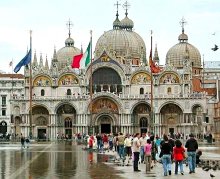 The magnificent St. Mark's Basilica is probably the most well known building in the heart of Venice. The original church was built in 829-836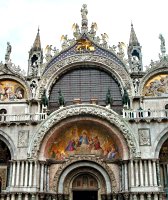 as a timber construction and consecrated to the Evangelist Mark. In 976 however it became a victim of flames. From 1043 to 1071, in the same place, the present Basilica with the ground plan of a Greek cross was erected. The Byzantine building with its 5 domes was consecrated in 1094. However, it took many centuries for the marvellous decoration of its facade and interior, with precious mural paintings and mosaics on golden ground, to be completed.
The splendid facade likewise was destined to serve as an altar, in order to give the people the opportunity to participate in religious ceremonies from the St. Mark's Square in a dignified setting.