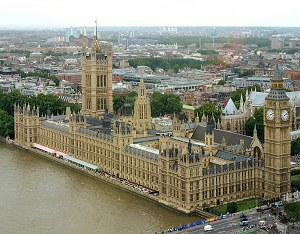 Westminster Palace is one of the most famous buildings in the world. The five-storey Palace of Westminster has about 1100 rooms as well as 100 staircases and corridors with a total length of 4.8 kilometres. At the west end of the Palace is the Victoria Tower, while in the east the old Big Ben adjoins the magnificent building. The famous bell tower is 315 feet high and has been showing the exact time since 1859! The picture shows an aerial view of the Palace, from the "London Eye".

Westminster Palace is the home of the British Parliament. The halls of the two chambers, the House of Lords and the House of Commons, are on the first floor. Visitors are permitted to watch the parliamentary sessions from the visitors' galleries - it's free. Of course - security measures are adequate to those on the airports.

We had the good fortune to get in, which gave us not only the opportunity of watching the parliamentary sessions, but also to have a look at the marvellous interior of the building. In the House of Lords we even saw the throne of the Queen.

The first royal palace on this site was erected in the eleventh century. After a partial destruction by a fire in 1512 King Heinrich VIII moved to the Palace of Whitehall, while the both chambers of the parliament remained there. In 1834 a disastrous fire ravaged the palace complex, after is was substantially remodelled between 1824 and 1827. The reconstruction was carried out from 1840 to 1870 in Gothic architecture (Perpendicular Style). The palace an outstanding example of the neo-Gothic style.