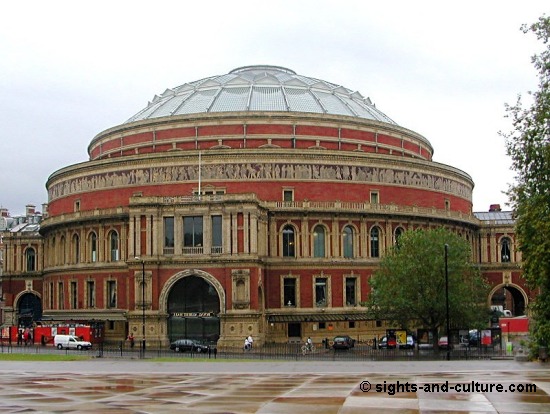 The magnificent concert hall, with its purple seats and curtains in the numerous boxes truly is of royal splendour and gives every performance a special charm. It is also the venue for the famous summer Proms concerts.

The Royal Albert of Art and Science was opened in 1871 by Queen Victoria as a dedication to her deceased husband and consort, Prince Albert. Since then the world's most renowned artists of all kinds of performance genres have appeared on its stage. The Hall has been used for over 150,000 events, including classical and rock concerts, conferences, ballroom dancing, poetry recitals, education, motor shows, marathons, ballet, opera and even circus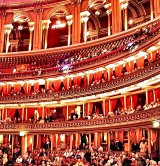 shows. It has hosted sporting events, including boxing, wrestling (including the first Sumo wrestling event be held in London) and tennis.
Resembling an amphitheatre, the hall is an ellipse in plan, with axes of 83 m (272 ft) and 72 m (238 ft) and was originally designed with a capacity for 8,000 people but due to modern safety restrictions it is limited to 5,544 including standing in the gallery. The great glass and wrought iron dome roofing the hall is 41 m (135 ft) high. Around the outside of the hall is a great mosaic frieze, depicting "The triumph of arts and sciences", in reference to the hall's dedication.
North of the Hall is the Albert Memorial.