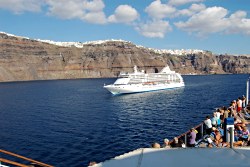 Santorini is the name of a small archipelago located in the southern Aegean Sea, about 120 km (75 mi) north of Crete and 200 km (120 mi) southeast of Greece's mainland. The name also refers to, colloquially, its main island, Thira (prehistoric Thera). The archipelago covers an area of approximately 73 km2 (28 sq mi), with about 13,600 inhabitants living on its only inhabited islands, Thira and Therasia. Originally, Santorini was a single island, but after an enormous volcanic eruption in 1628 BC, it became a circular archipelago, where the islands Thira, Therasia and Aspronisi form the edge of a caldera (a cauldron-like structure of volcanic origin), which is flooded by the sea. In the centre of this giant, up to 400 m (1312 ft) deep lagoon, the islands Palea (Palaia) Kameni and Nea Kameni are located. See more pictures in the
SLIDESHOW
Santorini Experience and Sightseeing 
Sailing to Santorini was a breathtaking experience. When the huge cruise ship dropped anchor right in the centre of the giant lagoon, we found us surrounded by up to 300 m (980 ft) high, steep cliffs on three sides and enjoyed thrilling views of the white houses, that tower right above the cliffs. The small, picturesque, white-washed towns on top of the
main island, Thira
, such as
Oia and the capital Fira
, are popular tourist spots with great hotels, restaurants and many other spots that offer spectacular views of the archipelago. One hardly can imagine the fascination of this area without having seen it.  The principal port of Santorini is Athinias, at the main island Thira. From here you can start all possible activities, to explore the archipelago by boat, bus or car.

Y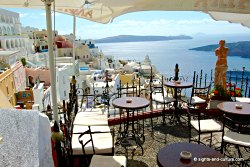 ou may wonder how to get on top of the cliffs - no problem. You can go by bus and even ride a donkey, but don't miss riding the
cable car
, at least one time. It takes you from Port Athinias up to Fira and back, offering great views of Fira and the caldera, as well as of the island's rock formation.
Once on top there are many different ways to explore the island. One of them is a
jeep safari
, which was our choice to visit the most picturesque parts of the island. We enjoyed incredible panoramic views, saw the beaches of Vlihade and Perissa, had a delicious Greek lunch at the charming village Megalochori, and visited
Profitis Ilias
(Prophet Elijah),
the highest mountain of the island
(567 meters).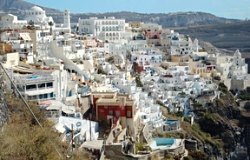 Fira
itself is a marvellous tourist spot with all kinds of shops in the narrow streets, but best are the beautiful cafes, restaurants and hotels overlooking, and offering stunning views of, the archipelago.
Unfortunalely there was no time left to go
Oia
in the North of the island Thira. The lovely town is one of the foremost tourist attractions of the Aegean Sea, famous for its picturesque architecture and its most beautiful sunsset.
Actually we wanted to visit also the
excavation at Akrotiri
, but the place was closed, because of a fatal accident that happened some time bevore. However, at the end of our safari, we had the opportunity to visit the Museum of Prehistoric Thira at Fira - very to recommend!


History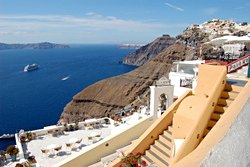 The first traces of settlement on Thira date from the 5th Millennium BC. In the course of huge volcanic eruptions in 1628 BC not only was the island destroyed, but also a great culture buried under tons of ashes. This event is also known as the Minoan eruption, as it happened at the height of the Minoan civilization, and may have led indirectly to the collapse of the Minoan culture on the island of Crete through the aftermath of a gigantic tsunami some 90 years later.
In 1967, at Akrotiri (on the main island Thira), a nearly perfectly preserved city from the Bronze Age was found under meters of ash layers. Sophisticated, multi-storied buildings with bathrooms, connected to a sewage system, with magnificent frescoes, furniture and elaborately designed vessels, show the high degree of civilisation and culture on Santorini around 3600 years ago. Beyond that, various finds from Crete, the Greek Mainland, Cyprus, Syria and Egypt testify that Santorini had developed an extensive commercial network, and was probably one of the most important trading centres in the Aegean in the Bronze Age.


The Museum of Prehistoric Thira
at Fira houses a multitude of presious finds from the excavations at Akrotiri. The exhibits cover different periods, including Akrotiri's heyday (17th century BC) with plaster casts of furniture, household articles, bronze vessels, and so on. Very impressive are also the magnificent wall painting ensembles... 

Museum of Prehistoric Thira at Fira -
see more pictures in the
SLIDESHOW