---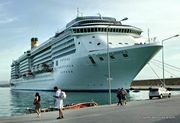 This cruise was the first one in our lives and in fact a fantastic experience. The gigantic size of the Costa Atlantica as well as the marvellous architectural and artistic design were beyond anything we could imagine until then. With a tonnage of 86.000 t, a length of 958 ft (292 m), a height to keel line of 197 ft (60 m) as well as a width of 105 ft (32 m) and a capacity of 2680 guests the Costa Atlantica is the largest ship, that has ever been built in Europe. On 12 different decks the ship provides everything, which makes the "dolce vita":
---
Foyer Dolce Vita

staircase of glass
deck 8-10-11

view to the top
with lift on the right

theatre Caruso
---
- 1057 comfortable furnished cabins, 684 of them with balcony and 58 suites
- numerous cafés, salons, bars, clubs and restaurants as well as a casino,
- a theatre with an extension over 3 decks for an audience of 1200 people
- a disco with an extension over 2 decks,
- 2 swimming pools, 3 whirl pools, fitness and beauty centre,
- several places for sporting activities, including tennis,
- 1300 sun beds on several decks,
- an elegant shopping arcade...

---
| | | | |
| --- | --- | --- | --- |
| | | | |
| pool on deck 10 | tennis deck 10 | fitness center | stern - water slide |
This ship is a floating paradise, which, with its glamorous exclusivity, is reminiscent of Las Vegas and where a crew of 900 people as well as an excellent artistic ensemble do everything, to make your stay an incredibly beautiful and unforgettable experience.

Moreover the upper decks form a height of almost 98 ft (30 m) above sea level offer a fantastic panorama with spectacular views of the scenery and seaports.

Of course the itinerary and excursions connected with it (see map) were the main reason for the choice of this particular cruise, which lead us to focal points of ancient cultures. The cruise started and ended at Venice, which is probably the most charming city of Italy, and lead us via the enchanting south Italian seaport Bari to Katakolon (Greece), including a trip to Olympia, the birthplace of the Olympic games. Then we set sail for Kusadasy (Turkey),mainly to visit theexcavation site at Ephesus. Next day we docked at Istanbul where we had the whole day to explore this fascinating city and to visit its world famous sights as well as to visit the Great oriental Bazaar. Finally as another highlight we arrived at Piraeus and, adjoining it, Athens, the cradle of western civilization.....
With this cruise dreams came true and a new dimension of travelling opened to us ...

If you plan a Mediterranean cruise, you'll find a great variety of offers and have a difficult time, to make the right choice. However, for best deals one should book as early as possible.
---
---

UNESCO World Heritage Sites
| | |
| --- | --- |
| Custom Search | |