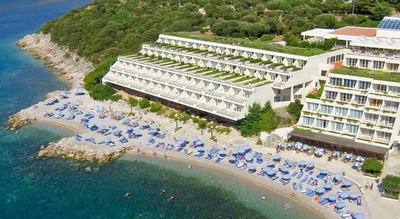 This recommendable hotel is ideally located right at the beach of the peninsula Babin Kuk, not far from Dubrovnik. It's true, the hotel had just 3 stars those days, but we felt like in paradise on this lovely small island.
On the latitude of Rome we enjoyed the pleasant climate and the luxuriant subtropical vegetation. The Adria and the sky were so incredible blue as we never have seen it and the water crystal-clear with pleasant temperatures around 23°C.
From our balcony on the fifth floor we had an enchanting, panoramic view over the sea and the offshore islands. Moreover, as the balconies are at the Western side we enjoyed every evening a fascinating sun set.
The Croatian cuisine is hearty, spicy and very tasty. The tables were always festive decorated and the service very attentive. A small folklore group entertained us with music, typical for the country.