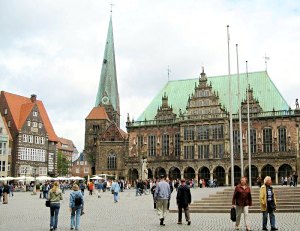 The city of Bremen is an old Hanseatic city at the northern coast of Germany, which can look back on a 1200 years old history. Between 787 and 849 the city became a diocesan town, in 965 King Otto I granted it the right, to hold markets, in 1186 Bremen became a free city and in 1260 joined the Hanseatic League.

As you might know, the Hanseatic League (German: die Hanse) was an alliance of trading cities that established and maintained a trade monopoly over most of Northern Europe and Baltic States in the later Middle Ages and the Early Modern period. It cared for the pacification of the trade routes and was a strong economical and political factor, which made the international trade flourishing.

Hanseatic cities were prosperous and still today, in the charming Old Town, magnificent buildings from those days can be found, such as the Old Town Hall and the statue of Roland, which have been UNESCO World Heritage sites since 2004, the imposing St. Petri Cathedral and splendid patrician houses around the marketplace, but there are also really cute, very small, old houses and narrow alleys in the oldest living quarter, named "Schnoor". There are many small shops, boutiques and comfortable, intimate restaurants - a Must when you visit Bremen, just as a walkt through the old "Böttchergasse"

Do you know the story about the 4 "Bremen Town Musicians" (by the brothers Grimm) - a donkey, a dog, a cat and a cock? They all were very old, no more useful and therefore should be killed by their masters, but they could escape. On their way to Bremen they met, became a very successful team and even put to flight some robbers with their appearance so one above the other making big sounds.....

---
St. Petri Cathedral

patron Roland
UNESCO World Heritage

historic quarter
Schnoor

the 4 Bremer
musicians