With its rich cultural heritage and varied landscapes Germany casts a spell over millions if visitors from all over the world every year. Of course there are countless guided tours, but alternatively numerous theme roads across the country offer an optimal opportunity, to explore on one's own account and accordingly to one's interests the cultural historical treasures as well as the most scenic landscapes and to experience the country's culture.
For example, on the "
Romanesque Road
" (Strasse der Romanik) you will find an abundance of Romanesque architecture - medieval village churches, monasteries, cathedrals, castles, houses and urban areas. The "
Castle Road
" (Burgenstraße) takes you over almost 1000 km from Mannheim to Prague, past castles and palaces as well as magical landscapes, while the "
Road of Romanticism
" (Romantische Strasse) takes you to some of the cultural and historical most interesting cities, from Würzburg am Main to the fairytale castle Neuschwanstein in the Alps.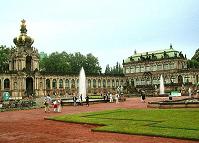 With this site we won't show you just the world famous sights like the Cologne Cathedral or the Castle Sanssouci at Berlin-Potsdam, but more unknown places and special cultural historical features, which are no less worth seeing.
Our tour starts at
Bremen
, a beautiful example of an old "Hanse" town at the northern coast of Germany. As you might know, the "Hanse" was a union of Baltic sea-ports as a protection against the pirates in the 13th and 14th century.....
I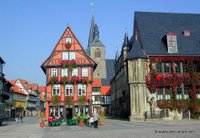 n the
scenic Harz mountains
you'll find the charming mediaeval cities
Quedlinburg
, which belongs to the UNESCO World Heritage and
Wernigerode
.


Leipzig
is an old trading town, who's long tradition of trade fairs dates back to the 12th century... Please visit this most charming city - it is our home town and the
cradle of the peaceful revolution in Germany
.
From Leipzig it is just a one hour's ride to
Dresden
, the former residence of king August with the nickname "the strong" - a treasury of cultural historical masterpieces. Nearby you'll find the city of
Meißen
, world famous for its porcelain, both situated at the Elbe River.

Follow us to the Federal country
Bavaria
now, enjoy the high mountains, visit its capital
Munich
, the famous city, where the Festival of Beer takes place each year in October, and don't miss to visit the famous
castle Neuschwanstrein
and the
charming city of Mittenwald
- a small city with elaborately painted houses in the south of Munich...