The Harz is located in central Germany and is the highest mountain range in the northern part of the country. Large portions of it (24,700 hectares) belong to a nature reserve, the Harz National Park. 95 % of the area is covered with forests, mainly with spruce and beech woods, including several bogs, granite rocks and creeks. The park is part of the Natura 2000 network of the EU.
Also some rivers have their sources in the Harz and large reservoirs can be found.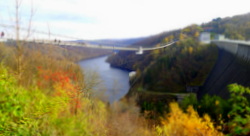 Best known is the Rappbode Dam, the highest in Germany. In 2017, about 50 m northeast of the dam, the pedestrian suspension bridge Titan RT was opened. It spans with incredible 458.5 meters total length the Bode reservoir and is therefore the world's longest pedestrian suspension bridge. Directly below the suspension bridge there is another experience in a class of its own.The "GigaSwing" is the most spectacular swing in Europe.

The highest point and a very popular as well as legendary place e is the "Brocken" with a height of 1142 m. The legend tells, that in the "Walpurgis night" (the night before May 1st) many witches on their brooms ride to the Brocken. Thus every year a great spectacle takes place for which people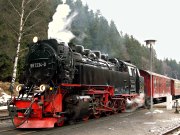 from all over the country come in high spirits to have fun on this mysterious place that night.

A very special feature and tourist attraction of this region is the Harz Narrow Gauge Railways (1,000 mm (3 ft 3 3?8 in), which connects the most interesting cities and towns with about 140 kilometres of track. The most popular destination however is the Brocken. It is quite romantic when the train leisurely winds on scenic roads offering picturesque views and after all puffing and panting climbs the mountain up to its top. The small railway stations still have offices to sell the tickets and the guard whistling raises the signalling disk to give green light.

The city of Quedlinburg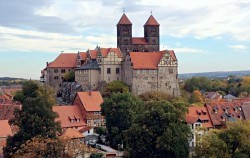 The Harz is a scenic region for excursions and holidays. Beyond this it hosts a multitude of historic places and charming old towns with interesting and beautiful cultural historical monuments. Most famous are the mediaeval cities Quedlinburg, Wernigerode and Goslar.
In the old town of Quedlinburg there are about 1200 half-timbered houses from 6 centuries as well as monuments of the Romanesque and Renaissance periods. The Collegiate Church St. Servatius (consecrated in 1129), the Castle (built up by Otto I the Great in 936) and the old town of Quedlinburg belong to the UNESCO World Heritage. In the collegiate church of St. Servatii you can visit the more than 1000 years old cathedral treasury