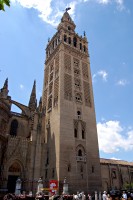 The Cathedral of Seville is the largest Gothic cathedral and the third-largest church in the world and has a total of five naves! Beside magnificent grave sculptures from the Middle Ages, also the tomb of Christopher Columbus can be found there.

The cathedral was built between 1401-1519 in the Gothic style on the remains of a 12th Century Arab mosque.
The famous bell tower of the cathedral, known as "Giralda", was originally one of the minarets of the old Moorish mosque, built in 1196. It was once one of the tallest structures in the world and became the landmark of the city. Remarkably this tower can be ascended on horseback up to the gallery at 70 m height! Instead of stairs, a 2.50 m wide ramp was built with a height, that allows a faster ascent on horseback.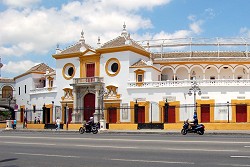 Even though we are not friends of bullfighting, we found the visit of the Maestranza Bullring at Seville quite interesting. With its impressive yellow-and-white Baroque facade and beautiful 16th-century iron gates, built 1762 -1881, it is considered to be one of the finest in Spain and one of the oldest and most important in the world. The arena accommodates about 12500 spectators. The bullring houses also a museum, that gives interesting insights into the long tradition and history of bullfighting, highlighting legendary bullfighters. The exhibits include bullfighting costumes, paintings, photos, sculptures, bronzes etc. A guided tour is strongly recommended.