Itinerary
of our trip

---
| | | | |
| --- | --- | --- | --- |
| | Sights and Culture - UNESCO World Heritage Sites | .. | |
During our 14 days round trip we experienced the highlights of the old and new China, with its invaluable cultural heritage and gigantic metropolises, as well as some of its most beautiful landscapes. We dipped into the Middle Kingdom and its fascinating culture, which is still today deeply rooted in ancient traditions and religious rites, experienced people in their ordinary lives and enjoyed the good Chinese cooking. The journey was so rich in experiences, information and exotic impressions that the memories of it will probably stay alive all our lives.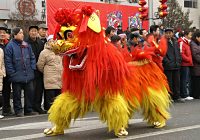 The enchanting Classical Chinese Gardens were a special treat – a paradise for mind and soul, places full of natural beauty and harmony – reflections of the Chinese philosophy, which considers harmony and balance between all acting forces as source for happiness and success.

Despite the modern age, the Chinese people have well preserved their cultural heritage and cultivated ancient traditions and customs. Special highlights are the colourful festivals, the most meaningful of which is the Spring Festival / Chinese New Year with marvellous processions, where old legends and myths become vivid again..
---
---
---

UNESCO World Heritage China
Classical Chinese Art, Calligraphy, Poetry, History, Literature, Painting and Philosophy
| | |
| --- | --- |
| Custom Search | |