at the Auspicious Light Pagoda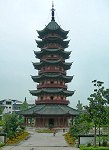 (RuiGuang Ta)

Garden with waterfall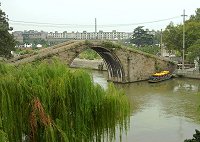 From Shanghai we went by bus to Suzhou, about 120 km away from Shanghai - at first glance a big, modern city with approx. 670,000 inhabitants, which however can look back on a 2500 years old history and which is one of the oldest cities in the Yangtze delta. In 514 BC King Helu of Wu established it as his capital under the name "Great City of Helu" and it became the cradle of the Wu culture. It is an interesting fact, that Helu was buried in Huqiu (Tiger Hill). The multifaceted city is also known as "Venice of the East", "City of Gardens" and "Silk Capital". In the charming historic old town there are still many historic buildings and constructions. Approx. 400 bridges, some of them dating from the Ming dynasty, span about 72 canals, which are bustling with boats and traditional barques. Old houses, restaurants, taverns and pubs line the banks of the old town and everywhere the traditional lanterns are seen, which cast a spell over the city with their red shining light at night – an invitation for a romantic evening. Similar, but much more intimate, is the charming "water town" of Tongli.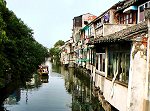 Thanks to its strategically favourable situation at the Grand Canal in the fertile area of the Yangtze mouth, Suzhou always has been one of the most important commercial centres of China. Since the 14th c. the best silk in China has been manufactured here - reason enough for us to visit also a silk spinning mill. The Grand Canal is with a total length of 1,794 kilometers (1115 miles) the world's longest manmade waterway. It goes from Beijing to Hangzhou (Zhejiang province) and connects five large rivers.
Most well-known however are probably the "Classical Gardens of Souzhou", from which we visited the "The Humble Administrator's Garden" and in Tongli the "The Retreat & Reflection Garden" - a marvellous experience and the highlight of our stay.