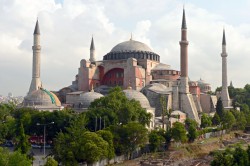 The Hagia Sophia (Turkish: Ayasofya) is situated on a hill overlooking the Sea of Marmara and the Bosporus and greets far visibly incoming cruise ships to Istanbul with its minarets and magnificent dome. 532-537 emperor Justinian erected the greatest Church in the ancient Christian world. The bold structure was a combination of Roman Basilica and domed Roman central building, the central element of which was a dome with a diameter of 101,7 ft (31 m) and a height of 160,7 ft. (49 m) after the example of Hadrian's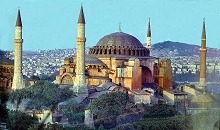 Pantheon in Rome. Neither in Byzantine nor Osmane days this dimension ever was surpassed. After several seismic shocks however the dome imploded in 558. The dome we see today is 23 ft (7 m) higher and was consecrated in 562.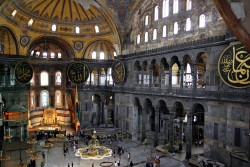 Daylight is flooding the church through 91 windows, illuminating the incredible beauty of the interior, which is adorned with marble tiles, elaborate, colourful mosaics and pictures, created from ceramics, precious and semiprecious stones, gold... The structure of the interior and the play of light convey the impression of weightlessness, which certainly contributed to the churches legendary fame.

Thanks to its grandeur and beauty the church served as a house of God even under the reign of Osmane Sultans all together for 1386 years! After the conquest of Constantinople in 1453 by the Turks under Mehmed II, the Hagia Sophia was used as mosque until the Turkish republic was founded in 1923! From 1935 to 2020 it was used as museum but serves as mosque again today.