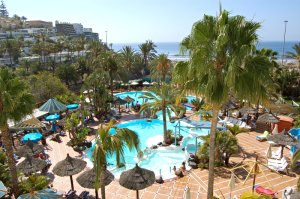 The hotel, overlooking the San Agustín beach, is a quiet resort with a gently sloping beach of dark coloured sand, just 6 km away from neighbouring, lively Playa del Inglés. However it does not lack choice of entertainment. Not far from the hotel is the international casino, as well as a large shopping and leisure centre.

The pool area includes two swimming pools and two whirlpools in the midst of a fantastic subtropical greenery, where sun loungers and parasols are available free of charge.

Really charming are the open air seats of the reastaurant and the bar. Breakfast at the terrace under palms at the pool with a small fountain is a dream! The open corridors offer nice views and make the walk to one's room a pleasure (picture below). Another highlight is the roof terrasse, which offers spectacular views of the sourrounding scenery.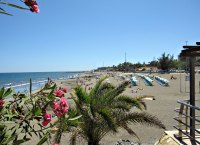 The varied, international cooking is served as buffet and includes a rich selection of raw vegetable and fruit. In the evening, live music is regularly provided and on occasions there are evening shows and daytime entertainment.
This 3-star hotel comprises 200 bright and spacious rooms, the great majority with direct or side views of the sea. It is a lovely place to stay for all those, who are looking for realxation at really moderate prices.