Visiting the Zwinger at Dresden you'll pass the Theatre place with the famous Semper Opera House. Don't miss to take at least a guided tour through the house - it is worth it in any case!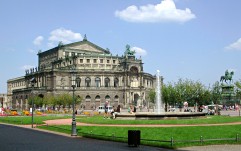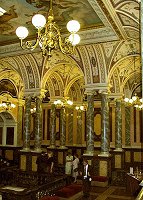 Dresden's former Royal Court Theatre has a turbulent history. The first Opera House at this location was built 1838-41 by the architect Gottfried Semper and became famous as one of the most beautiful theatres in Europe.
After it became a victim of flames in 1869, the house was reconstructed 1871-78 in High Renaissance style again by Gottfried Semper. However you know - at the end of World War II, in 1945, the city of Dresden was heavily destroyed by air raids and also the Opera House was badly concerned.
In 1977 - 1985 the theatre was scrupulously and to a great extent faithfully reconstructed, considering the requirements of a modern opera house. As one says, regarding the acoustic, the Semper Opera House even could stand now the comparison with the the Scala at Milan and proudly is presenting a use to capacity of 98%!
---
Semper Opera House

auditorium
Royal Box

stage

Hofkirche viewed
from the Opera house