Hardly any other country offers so many varied tourist attractions like Italy. Dreamlike beautiful landscapes with mountains and sandy beaches, a fascinating cultural heritage, architectural masterpieces from the antique up to the present, living history in mediaeval cities, a famous cuisine and good wine, and also fashion designs and much more, draw, with magical powers, millions of visitors to this beautiful country every year.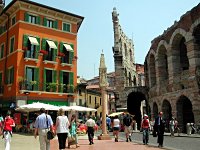 Since ancient times Italy has been a centre of European culture. And even today the erstwhile heart of the Roman Empire, the "Eternal City" Rome, as the country's capital and seat of the Vatican, plays an outstanding role in intellectual, cultural and religious life.

Numerous sights and places worth seeing in Italy are listed as UNESCO World Heritage, including the historic centres of Rome, Venice, Verona, Florence, Mantua and Genoa etc.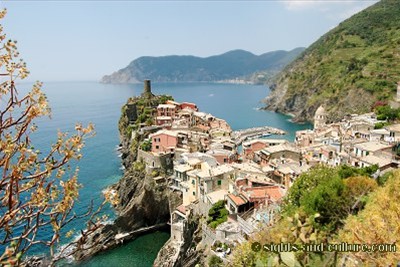 Some km south of Genoa you'll find one of the most enchanting regions in northern Italy -
Cinque Terre
, a 12 km long area with 5 villages along the Ligurian Riviera of exceptional natural and cultural charm and beauty .

One of the most beautiful regions of Italy is the Tuscany with its picturesque landscape and fascinating mediaeval town centres, such as in its capital Florence, in Siena and San Gimignano. In the north it is bounded by the Appenines, several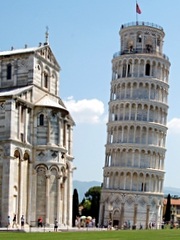 mountain ranges of which reach 2000 m. Most popular landscapes are also the Maremma and Apulia in the south, the Chianti region between Florence and Sienna and also the Etruscan Riviera. Pines, cypresses, olive trees and vineyards give the hilly land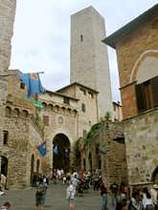 scape its very special charm.

Another very special experience is a visit to the
ancient city of Pompeii
in the Gulf of Naples which sank under lava ash when Vesuvius errupted in 79 AD. Vesuvius today is 1281 meters high and can be climbed.

Particularly appealing is the area around Lake Garda, a subtropical enclave in the north of Italy, embedded in the southern foothills of the Alps. Around the lake there are marvellous holiday resorts which nestle against mountains that rise sharply up to 2000 m beyond the waterside. All this, as well as the mild climate with subtropical vegetation and the grandiose panorama make Lake Garda one of the most popular holiday destinations.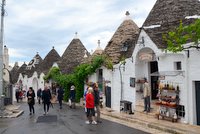 And, when you go to Apulia, don't miss to visit the
magical city of Alberobello
with its round houses, the Trulli, built in prehistoric style. An UNESCO World Heritage site, which will make you feel, like in a fairy tale.

Very interesting also is a trip to the
marble quarries of Carrara
in the Apuan Alps. There you can watch the mining of the "white gold" which Michaelangelo made world famous by his works. At the narrow serpentine access roads there are numerous workshops where you can bargain for valuable works.