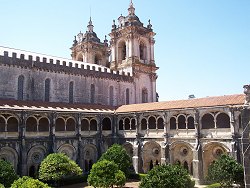 The Monastery "Mosteiro de Alcobaça" is one of the biggest, most famous and oldest in Portugal. It is a masterpiece of Cistercian Gothic and belongs to the UNESCO World Heritage. The building was begun in 1178 and expanded over the centuries. The abbey was an important intellectual, political and spiritual centre and home to the kingdom's most important monastic school.
As an expression of the close relationship between the monastery and the monarchy the marvellous and stunning beautiful tombs of the legendary lovers King Pedro and Ines de Castro can be found there. King Pedro had errected the tombs around 1360, after his eternal love, Ines, was murdered by his father, King Alfons IV, in 1355.
The inscription reads: "Until the end of the world.. "(Até o fim do mundo...).