The city of Cairns in the tropical North of Queensland is the gateway to some of the greatest wonders of Nature: : the Wet Tropics and the Great Barrier Reef. So there are numerous offers of guided and individual tours, to explore these World Heritage sites, as well as of entertainment and sportive activities for everyone.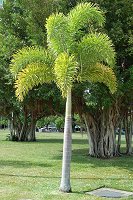 The small city at the waterfront has 85,000 inhabitants and about 1 million tourists per year. There is an international airport, a small harbour and also a railway station. The townscape is a mixture of huge modern buildings, mostly hotels, which often have beautiful tropical gardens, and smaller traditional houses. This applies also to the city's boulevard, the Esplanade. We stayed there at the Rydges Tradewinds and were very pleased with it. There are many tourist attractions like a botanical garden, a zoo, playgrounds, a casino and parks, also a small shopping area including a night market and of course numerous restaurants and bars.
During our short stay we made two one-day excursions - one to the to the Reef and another to the mountainous rainforest retreat Kuranda. The picturesque village with its famous traditional markets is situated amidst the world heritage area at the Barron river and offers numerous attractions and guided tours. A special highlight was the nearby "Rainforeststation", a privately managed nature park, which conveys interesting and fascinating insights into the tropical rainforest and its wildlife as well as the experience of the aboriginal heritage and culture. Above all, the journey from and to Cairns by the historic Scenic Railway and the Skyrail cableway through and above the rainforest offer spectacular views of the Barron Gorge National Park scenery and the canopy of the rainforest.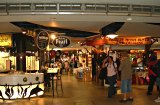 Another highlight of our stay at Cairns was a cruise to the Great Barrier Reef. There were countless offers and, for the layman, it is difficult, to make a good choice, so it may be a good idea to make some enquiries and to question other tourists about their experiences before booking. We chose "Sunlover Reef Cruises" which takes you to a pontoon for a 4 – 5 hour stay at the outer reef from where all kinds of activities, including scuba diving can be chosen.