Australia - Kuranda

~ Rainforest and Aboriginal Experience ~
---
---

The excursion to the wet tropical rainforest with its luxuriant vegetation and different wildlife, was an outstanding natural experience. It was pouring with rain that day, as we had never experienced it before; however - this made the rainforest shine in its richest colours!
Slideshow Jungle Tour //

Video

Kuranda-Meeting Aborigines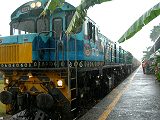 For our tour

"Rainforest Experience"

we chose the Kuranda Scenic Railway, which starts at

Cairns. The Heritage-listed historic

Scenic Railway line

meanders its way through the impressive mountain ranges of the Baron Gorge National Park to

Kuranda,

the village in the rainforest. During the 34 km long journey through the tropical rain forest, the train climbs from sea level up to a hight of 327 metres, winds around countless curves and passes fifteen tunnels and forty bridges! Along the way we saw the beautiful Stoney Creek Falls and stopped at a vantage point with a spectacular view of the Barron Gorge Falls which, in the dry season, however have very little water.

Kuranda, the picturesque village in the rain forest, is situated amidst the world heritage area at the Barron river and offers a multitude of natural and cultural attractions and sights.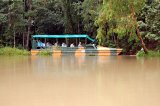 Special highlights for us were the markets with traditional arts and crafts and the nearby "Rainforeststation", a forty hectare Nature Park, which includes a Koala and Wildlife Park, where one can hand feed kangaroos and watch Koalas and crocodiles etc. Interesting also are the performances of the Panagirri Aboriginal people. The most exciting experience however was an adventurous Jungle Tour by the "Army Duck", an amphibious vehicle from World War II.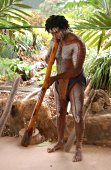 The Aborigines are the original owners of the rainforest and have been there since ancient times, so it was very enriching to meet them there. As a part of our package we watched a Pamagirri Aborigines Dance show against the backdrop of the scenery of the rainforest, and after that one of the dancers introduced us into the techniques of playing the Didgeridoo, throwing a boomerang and an Aboriginal spear, We enjoyed all the performances and the entertaining way our Aboriginal guide
talked to us. Unfortunately due to lack of time we missed the Rainbow Serpent walkway, which takes you through Aboriginal traditions as well as myths and legends of the Dreamtime.

Above all the return journey by "Skyrail", a 7,5 km long scenic cableway, above the Barron Gorge National Park gave us spectacular views of the canopy of the rainforest, the Barron Falls and surroundings of Cairns. The Skyrail stops at two rainforest mid-stations, Red Peak and Barron Falls, with boardwalks and scenic look-outs. Unfortunately due to the heavy rain; the view from the gondola was not the best.

There is much more to se and to do in Kuranda, but unfortunately our time was limited, as Skyrail does not accept passengers after 3.45 pm.
---
Impressions of Kuranda

| | | | | |
| --- | --- | --- | --- | --- |
| | | | | |
| Pamagirri dancers | Didgeridoo | Aboriginal shop | Koalas | rainforest jungle |
---
---
Kuranda - Village in the Rainforest
Kuranda Scenic Railway (KSR)