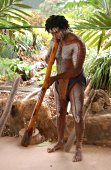 The Aborigines are the original owners of the rainforest and have been there since ancient times, so it was very enriching to meet them there. As a part of our package we watched a Pamagirri Aborigines Dance show against the backdrop of the scenery of the rainforest, and after that one of the dancers introduced us into the techniques of playing the Didgerridoo, throwing a boomerang and an Aboriginal spear, We enjoyed all the performances and the entertaining way our Aboriginal guide
talked to us. Unfortunately due to lack of time we missed the Rainbow Serpent walkway, which takes you through Aboriginal traditions as well as myths and legends of the Dreamtime.

Above all the return journey by "Skyrail", a 7,5 km long scenic cableway, above the Barron Gorge National Park gave us spectacular views of the canopy of the rainforest, the Barron Falls and surroundings of Cairns. The Skyrail stops at two rainforest mid-stations, Red Peak and Barron Falls, with boardwalks and scenic look-outs. Unfortunately due to the heavy rain; the view from the gondola was not the best.

There is much more to se and to do in Kuranda, but unfortunately our time was limited, as Skyrail does not accept passengers after 3.45 pm.