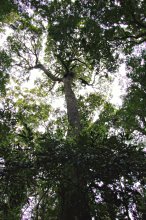 Tropical and subtropical rainforests in the lowland usually have four very distinct layers with different plants and animals, adapted for life in that particular area:
Emergent trees are spaced wide apart, and are 164 to 240 feet (50 - 70 m) tall with umbrella-shaped canopies that grow above the forest. Eagles, butterflies, bats and certain monkeys inhabit this layer.

The upper canopy usually consists of 100 to 130 ft tall trees (30 - 40 m), which form with their adjacent tree tops a more or less close roof over the two remaining layers. It is the area with the biggest diversity of species and it is understood to be home to 40% of all plant species! The fauna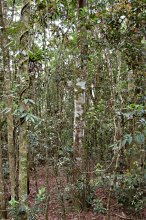 is similar to that of the Emergent layer, including also snakes, toucans and treefrogs.
The understorey gets only little sunshine and one can find here many shrubs, 60 ft. (18 m) trees and young growth. It is home for an abundance of birds, snakes, lizards and insects, but also for predators, like jaguars, leopards, boa constrictors and armadillos.
The forest floor is in constant shade. Thus, the forest floor has almost no vegetation and the humid, warm conditions promote a rapid decay of plant and animal matter. Many forms of fungi and giant anteaters can be found here.
However - where there is no close canopy for any reason and the sunlight can reach the ground of the rainforest, as along the river banks, an impenetrable jungle will develop quickly. And this was, what we experienced at the rainforest village Kuranda - jungle in the rainforest - an exciting experience!