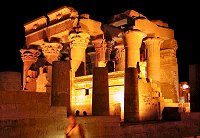 The Temple of Kom Ombo is built on a high dune overlooking the Nile and when our ship docked at the small harbour of Kom Ombo late in the evening, the time honoured temple welcomed us towering the city with bright floodlight - a marvellous sight!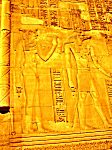 It is a double temple, which was probably begun by Ptolemy VI Philometor (180-164 BC). Other Ptolemies and even Romans also contributed to various parts of it.
The unique feature of this temple is the unification of two adjacent, symmetrical temples, each dedicated to a distinct divinity - the northern to Horus the Elder, the falcon headed god of the Egyptian Mythology, and the southern temple to the crocodile headed god Sobek. That's why it is called a "double temple".According to the legend in ancient times sacred crocodiles basked in the sun on the river bank near here. A few of the three-hundred crocodile mummies, discovered in the vicinity, are displayed in the chapel of Hathor.