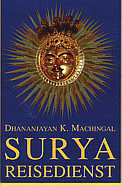 Our tour was organized by the Indian travel agency "SURYA" with office in Frankfurt. This branch is lead by Indians, which proved to be really useful regarding the competence and business connections to India.

The agency offers individual tours for a minimum of two participants on easy terms. My husband and I had worked out the itinerary appropriate to our interests and the agency organized the trip accordingly to our wishes. We were very pleased with their service and can say, that they did an excellent job in every respect!

Well, as we were considered a tour group, we had our own car with driver just as our own
guide in each city. We never joined another tour group - even not for the boating on the Ganges. The driver was at our disposal around the clock and brought us to all destinations. When we arrived at a new place, the driver brought us to the hotel, where the local agent, who was responsible for the respective stay, welcomed us. The hotels as a whole were very good, the one in Jodhpur even excellent, although we had booked only medium price range.

We experienced the spirit of the traditional India and were traded like Maharaja and Maharani.

Some remarks about the necessity, to have a driver...
Never get the idea, to go by car through India yourself - it's simply impossible to stand this kind of traffic as a normal European road user.

It doesn't matter at all whether you are in a "city" or ride through the country - you share the road with camel carts, hand pulled fruit carts, thousands of bicycles, hundreds of rikshas as well as with free living pigs, cows dogs and sheep. A motorbike is used for as many as 4 people and so it goes for example for a family: behind the driver a child and at the end of the seat sitting across the mother, dressed with her sari holding another child on her lap.
In this way the speed limits itself in the towns of 15 km/h and on the roads outside of about 45 km/h..... Over and above that we didn't see any traffic signs like for right of way in the old towns. The cars as a whole have no outside rear-view mirror and one does not use blinkers. There is only one simple rule: you have to watch the traffic in front and to show with your hand if you want to turn off to another direction - the drivers behind you will realize this and be careful... The most important part of the car is the horn - how else could the driver in front know, that you intend to pass and how else could you push him or get him to make way for you?
The picture shows a view from the rear window of our car of the traffic in Varanasi.